Ways to Prioritise your Mental Health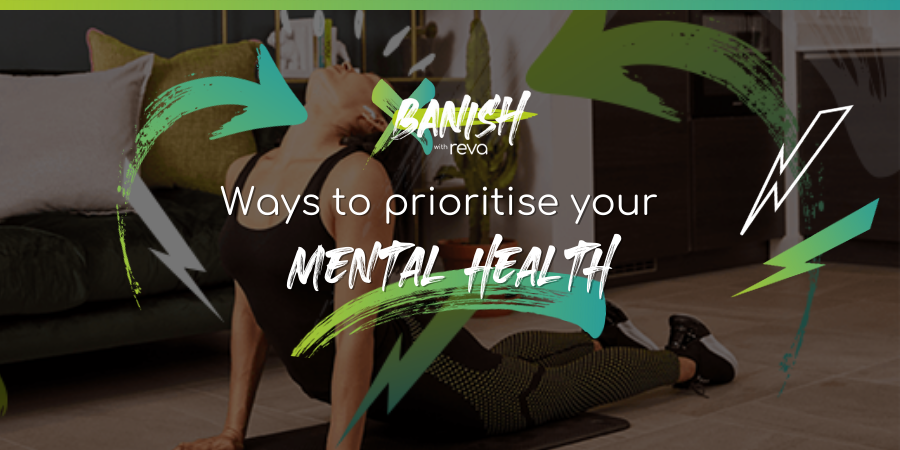 At Banish we're big advocates that mental wellbeing is just as important as physical health. There seems to be a tremendous amount of information on how to maintain a great physique and not a lot of resources on how to prioritise your mental health. So we've brought together our favourite ways to put your mental wellbeing first. Let's go…  
Banish that negative thinking
Affirmations are a great way to transform your negative thinking patterns and boost your self-esteem. Here are some Banish-approved affirmations… 
Now repeat after us… 
I deserve to be happy and healthy.

I am worthy of a happy and healthy life.

I look after my body and in return, I feel amazing.

I am calm. I am happy. I am loved.
Looking for an extra boost? Find even more amazing affirmations here. The key to these affirmations is to make them a part of your routine. Taking a few minutes to focus on how awesome you are can improve your self-esteem massively. That's not all! Affirmations for success can help you to reach your goals. Try it for yourself with this YouTube video…
Interrupt negative thoughts 
When you're in a rut it can be easy to fall into that negative thinking, and this can quickly spiral. Make sure to pause, reflect and take note of your feelings. Is there anything, in particular, that's triggered this negative thinking? If you need a helping hand in taking that positive step forward, Banish is always here for you. 
Why not jump on the app to find a quick workout to help shake off that nervous energy. Not in a workout mood but sat with that negative voice in your head? We also have some thought-provoking brain food such as "How to Hack Your Habits", to help you turn that negativity into something purposeful.
If you're still struggling, why not contact our partner charity CALM (Campaign Against Living Miserably) on 0800 58 58 58
Exercise!
We really can't say enough how exercising is an amazing way to prioritise your mental wellbeing. It's the whole reason why Banish was created. Our founder, former pro rugby player and seasoned senior trainer Jamie Acton, knows first-hand how mental challenges can affect our lives. Banish is providing a platform for anyone who wants to prioritise their mental well-being through exercise. 
That's why we always want our users to mentally check in before working out. Only have 10 minutes and feeling demotivated? Overwhelmed? Anxious? We can tailor a workout that will have you feeling good in no time.  
Want to learn more about the science behind exercise and mental health? Check out our most recent blog for all you need to know. 
Ask for help 
If you're struggling – that's okay! Don't bury your feelings, speaking to a friend or family member can be a great way to prioritise your mental health. You may find you're not alone in feeling stressed or sad. Let's open up the conversation together.  
As always, turning to Banish is a great way to prioritise your mental health, check in with your feelings and find a workout to help work through them.